The United Kingdom government has agreed to allow fans to return to watch live sport next month amid the COVID-19 pandemic.
The government, earlier in the year, had banned fans from stadiums in a bid to prevent the spread of coronavirus. There were talks that as much as 30% of the stadium venue could be filled up as soon as the government gives the go-ahead. However, according to a letter written to a Conservative MP from the Department of Culture, Media and Sport, the number permitted now will be heavily reduced to around 1,000 – 2,500 instead of the initial plans for up to 30 percent of a venue.
Nigel Huddleston of the Department of Culture, Media and Sport wrote to fellow Conservative MP and former Sports Minister Tracey Crouch to underline the plan to continue to open sporting events for a small number of spectators from October 1.
He wrote, "I know how important this is for sports clubs for whom paying spectators are vital. Subject to public health conditions, we hope to open elite sports fixtures including the National League for socially distanced spectators under COVID-secure conditions from October 1."
Read the full letter below.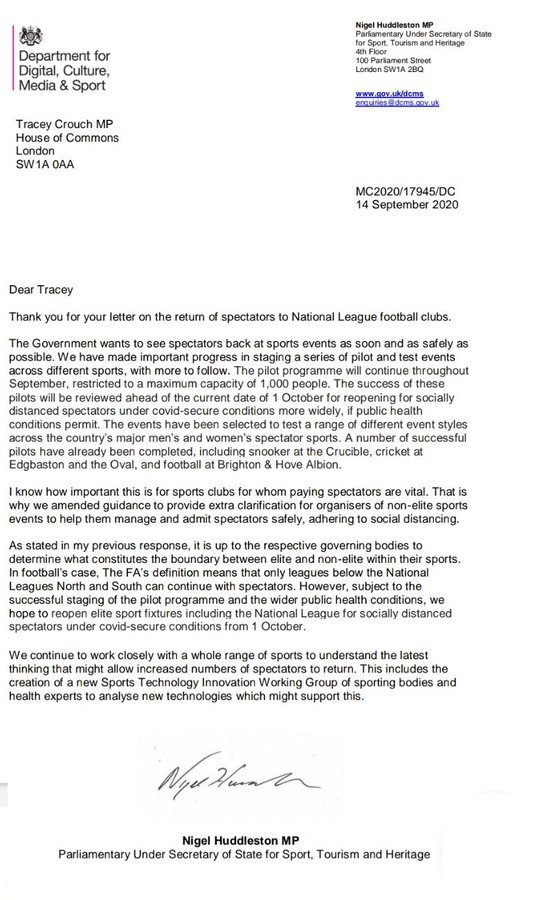 Also Read: Obaseki Opens Hajj Camp, Urges Muslims to Vote PDP in Edo Election
Hits: 2